O

nward, he trudged. North, north, always north.....
---
Quickly figured out a good flesh tone with the paints I had on hand. I needed to make not entirely rotting, but not entirely human or lively flesh either. I decided on grey, but did a 3 or 4:1 mix of grey:biege. This actually worked surprisingly well as the beige tint added the slightest amount of "still somewhat living" to it. Of course a wash of Badab black to add depth. I'm sure Ogryn flesh or some other flesh-y wash would be better, but I was working with what I have on hand.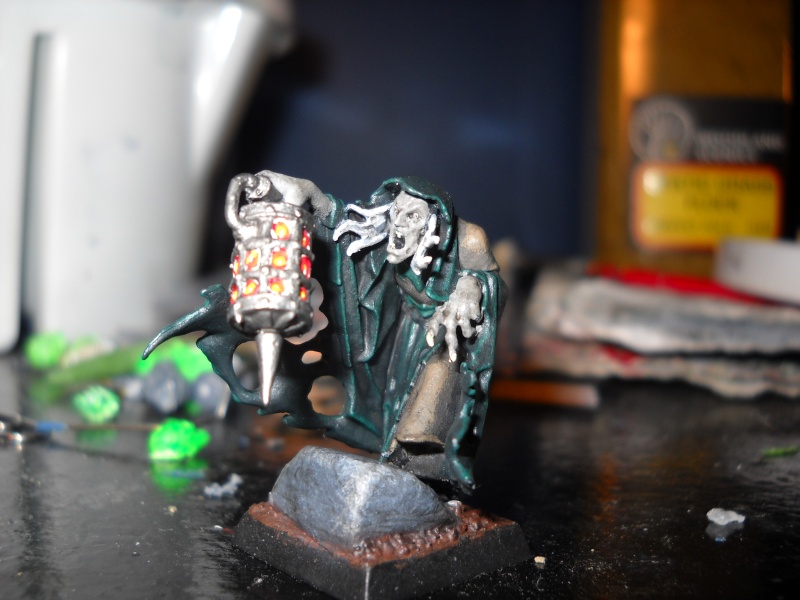 After gluing the model together, there were a few cracks. You may even see one in one of these pictures. I did attempt to fill them, and did a good enough job. It was my first functional use of green stuff after all. I am happy with it as is.
In my opinion, the cloak is too black, or too dark. I am going for a dark, or pale, or earthy green for my primary colour scheme for this army, but I think I made this particular cloak too dark. What do you think?
I definately wanted the lantern to actually be lit, this was a given, but it was new territory for my paint brush. I just did splotches of red, then orange (which ended up not being all that visible) then yellow. I even did a tiny dot of white on some of them, unsure if it would add much to the effect. Now, I was originally thinking of trying my hand at object source lighting, but damn, that looks challenging to do right. Seems easy to screw up.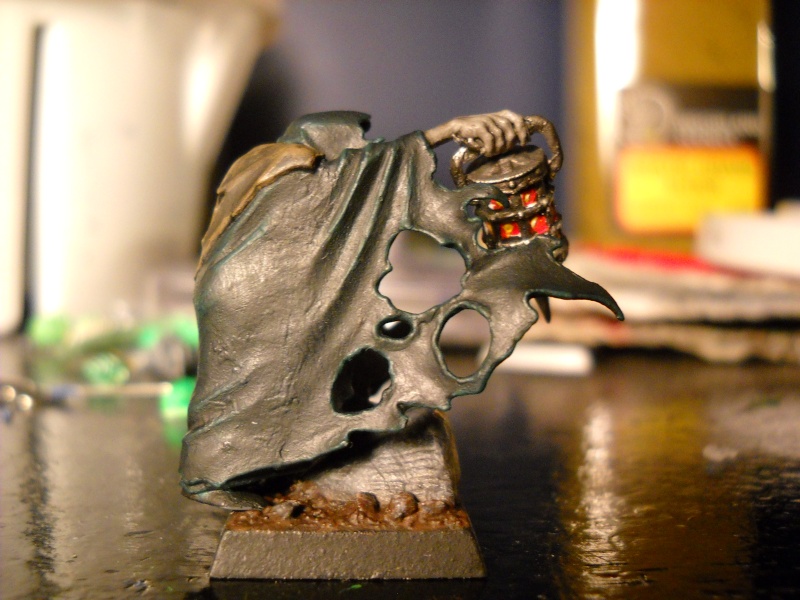 Now, this model is actually just the mount for the corpse cart. (a chariot type model that doesn't play like your average chariot in Warhammer Fantasy) but I needed more Necromancers for my army so these were perfect candidates. Because of their uneven footing (I think the corpse cart mdel is slanted) this guy could not just be put on to a flat base. So he is now stepping on top of a boulder to get a better view.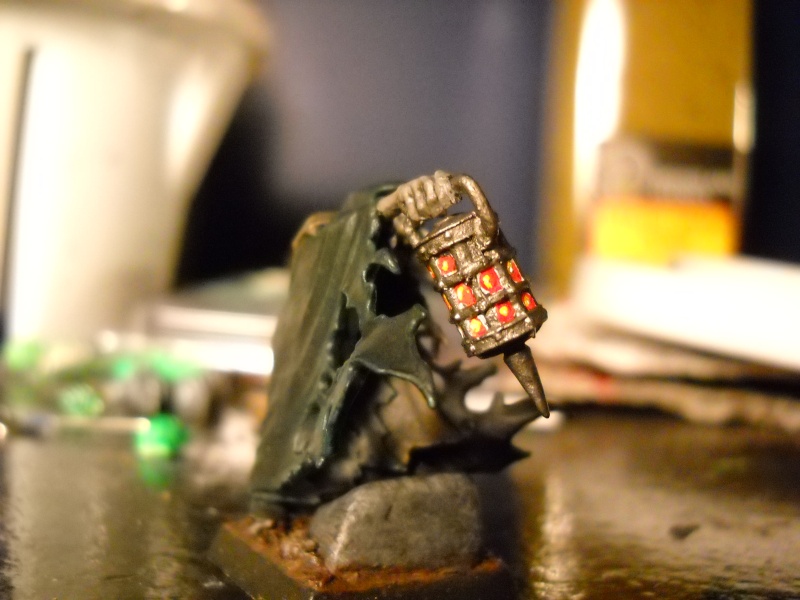 In fact, he isn't even glued to the base, but magnatized. This way, when my corpse cart is constructed, he can either mount that, or go on foot. Or if his cart mount gets destroyed, he has a base to stand up on, so he can continue the fight on foot.
In my opinion, he almost looks too clean to be meandering about in mud. I could still make the bottom of his cloak just the least bit muddy to add to the effect. This guy aint no wealthy wizard. He is reclusive, hangs out in caves, only goes out at night, scares children, owns like a hundred cats.
So tell me what you think. I really enjoy feedback, as it motivates me to paint more stuff.

Calvin

Special Character




Posts

: 666


Join date

: 2010-02-06


Age

: 28

Character sheet
Name: Dr. Quack
UPP: 6A5668
Service: Scientist


That is ghoulishly fantastic Cal! Hes not todirty looking but his cloak definately looks worn and almost gives off this sense of nurgleish disease ridden cloth.
Wicked man, Wicked.

Darien

Elite





Posts

: 58


Join date

: 2010-02-15


Age

: 28


Location

: Campbell River

Character sheet
Name: Fiona (Fio) Krazdrak
UPP: 83A939
Service: Flyer




Similar topics
---
Permissions in this forum:
You
cannot
reply to topics in this forum